We built LUMO ONE alongside some of the best growers in the world

What did those growers ask us for? An entirely new kind of field device, uniting the most important elements of irrigation management into a singular valve unit. So that's what we built.
The Lumo One Smart Valve

Precisely control and measure how much water is applied to your crops
completely wireless

Internet connected and solar powered to ensure connectivity in even the most remote locations.

Built-in flow meter

Track water usage and detect leaks or clogs without sending a human into the field.

Built-in computer

No need for complex and cost prohibitive irrigation controllers or base stations.

Rugged construction

Made with fiber reinforced engineered polymer to withstand the elements and the occasional tractor bump.

The Ops Center

The Irrigation management system you can use one handed
Say goodbye to your aftermarket controller. You'll run your Lumo One smart valve from The Ops Center, our irrigation management software for desktop and mobile. Purpose built for busy growers, we designed it with an emphasis on ease and reliability.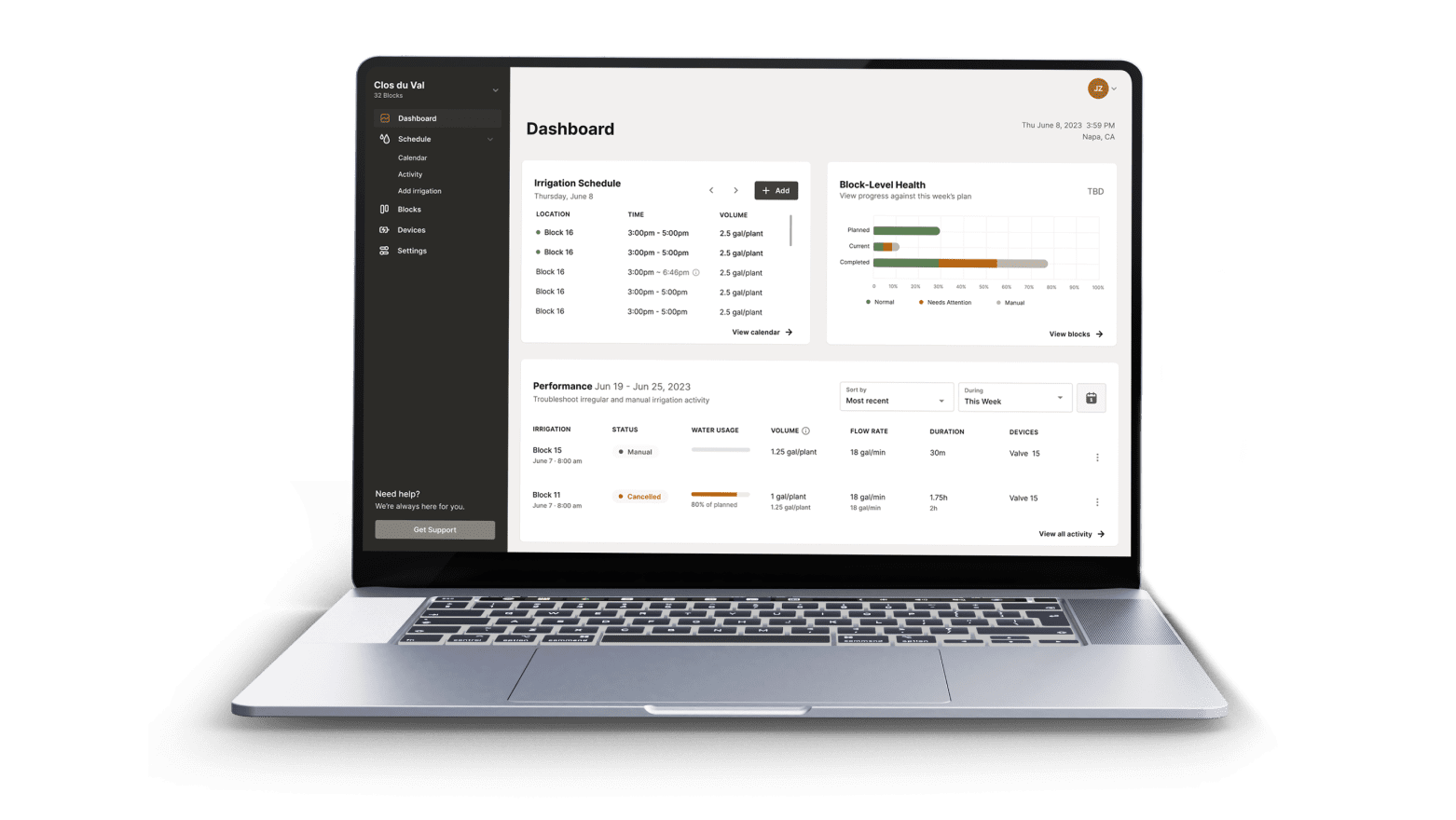 Intuitive and user friendly
CLoud managed & accessible from anywhere
unlimited user licences
Automatic software updates
Learn more - Book a demo with our team
we don't just build accountability into our hardware, we build it into our culture
whether you have one lumo valve or 100, you get our unreasonably helpful customer Service

Included with every plan
Dedicated Account Management
on-site & online
Fair and Transparent Pricing

hardware, support, and service covered forever
We're the first in the industry to offer a pay-as-you go model for our hardware and service. That means unlike other systems, we won't sell you expensive hardware then leave you to figure it out. With Lumo, you pay a modest annual fee per Lumo One valve, covering our boots-on-the-ground support, plus hardware replacement, and access to our cloud-managed software for the life of your contract.
unlimited
white glove support
Automatic
Software updates
Free
Hardware replacement
Unlimited
users per account

DIG DEEPER

What makes Lumo different from other irrigation automation solutions?
Alternative irrigation solutions on the market use a traditional hub and spoke model, that require an irrigation controller (the hub) and hardwired solenoid valves (the spokes). This involves multiple products from different providers which make them complex, expensive and unreliable.

Lumo differentiates by being the first irrigation valve to have a built-in controller, the first to have a built-in flow sensor, and the first valve that is completely wireless and internet connected. All of which are powered by Lumo's irrigation management software.
How does Lumo connect to the internet?
Lumo uses wireless mesh technology to receive commands to update or create new schedules and to provide real-time telemetry on how water is flowing through each valve.

The mesh network is created by connecting a single Lumo One valve, known as the root, to the internet via a 5G cellular modem that Lumo provides at no additional cost. The other Lumo One valves then 'mesh' off one another to cover long distances in remote locations.

What happens if the 5g cellular modem loses service?
The next generation of Lumo One valves have a large storage capacity to save irrigation schedules and flow data locally. This means that they will continue to operate seamlessly without an internet connection and transmit or receive data once the connection has been reestablished.
How much does Lumo One cost?
Lumo's price is based on the number of units you need and any unique accommodations you may require, but generally ranges from $150/unit/year to $500/unit/year. If you'd like an estimate, let's chat by emailing us at
[email protected]
or
requesting a demo here.
Learn more - Book a demo with our team